Coffee Farmers Empowerment by LMDH Argo Mulyo in Tambi Village, Kejajar District, Wonosobo Regency
Keywords:
Tambi Coffee, Community Empowerment, Human Development
Abstract
Empowerment is an effort made by the community, with or without the support of outsiders to improve their lives based on their own power, through power optimization efforts, as well as increasing their bargaining position, in other words, empowerment must put the strength of the community as the main capital and avoid the "engineering" of outsiders which often kills the independence of the local community. This study aims to find out and analyze the techniques for empowering coffee farming communities carried out by LMDH Argo Mulyo in Tambi Village, Kalijajar District, Wonosobo Regency, Central Java Province. The method used in this study is descriptive qualitative. The data collection techniques used are observation, interviews, and literature studies. Data analysis techniques are carried out by reducing data, presenting data, drawing conclusions, and verifying. Based on the results of the study, it shows that the implementation of empowerment carried out by LMDH Argo Mulyo for coffee farmers in Tambi Village, Wonosobo District, Central Java Province is going well covering 4 (four) aspects of empowerment, namely: Human Development, Business Development, Community Development, and Institutional Development.
Downloads
Download data is not yet available.
References
Alnopri, d. (2011). Indiotipe Kopi Arabika Tanaman Belum Menghasilkan pada Lingkungan Dataran Rendah dan Menengah. Agrovigor, 62 - 69.
Asyiroh, F. (2017). Pemberdayaan Masyarakat di Kelurahan Semolowaru Melalui Perpustakaan Kelurahan Semowaru Surabaya. Surabaya: https://repository.unair.ac.id/68423/.
Febrianto, A. I. (2021). Pemberdayaan Petani Robusta oleh Dinas Peternakan dan Perkebunan di Kecamatan Jangkat Kabupaten Merangin Provinsi Jambi. Merangin Jambi: http://eprints.ipdn.ac.id/6412/1/FEBRIANTO%20AL%20IHKAM_28.0292_PEMBERDAYAAN%20PETANI%20KOPI%20ROBUSTA%20OLEH%20DINAS%20PETERNAKAN%20DAN%20PERKEBUNAN%20DI%20KECAMATAN%20JANGKAT%20KABUPATEN%20MERANGIN%20PROVINSI%20JAMBI%20%28RINGKASAN%20LA%29.docx.pdf.
Feri. (2019, Januari 16). Arabika Coffee Tarzan, Wonosobo. Tarzan Coffee Tambi. Wonosobo, Jawa Tengah, Jawa: https://feritambi.blogspot.com/2019/01/tarzan-coffee-tambi.html?m=1.
Helmy, C. (2016, Juni 08). Kopi pun Menyimpan Kebaikan untuk Bumi. Jakarta: http://pskl.menlhk.go.id/kliping/86-kopi-pun-menyimpan-kebaikan-untuk-bumi.html.
Kasihan, d. K. (2021). pemberdayaan Petani Kopi oleh Dinas Pertanian di Desa Ramung Jaya Kecamatan Permata Kabupaten Bener Meriah Provinsi Aceh. Jurnal Pembangunan Pemberdayaan Pemerintah, 149-170.
Mardikanto, S. (2017). Pemberdayaan Masyarakat dalam Perspektif Kebijakan Publik. Bandung: CV Alfabeta.
Mardikanto, T. dan Soebiato, P. (2017). Pemberdayaan Masyarakat dalam Perspektif Kebijakan Publik. Bandung: Penerbit Alfabeta.
Pemkab Wonosobo. (2021, Maret 23). Pemkab Wonosobo akan Menggagas Branding Kopi Wonosobo Kenalkan Kopi Robusta dan Arabica. Magelang: https://magelangekspres.com/pemkab-wonosobo-akan-menggagas-branding-kopi-wonosobo-kenalkan-kopi-robusta-dan-arabica/.
Weningsih, D. d. (2014). Penguatan Kelembagaan Lembaga Masyarakat Desa Hutan (LMDH) Studi Kasus pada LMDH Argomulyo, Desa Tambi Kecamatan Kejajar Kabupaten Wonosobo. Tangerang Selatan: Universitas Terbuka.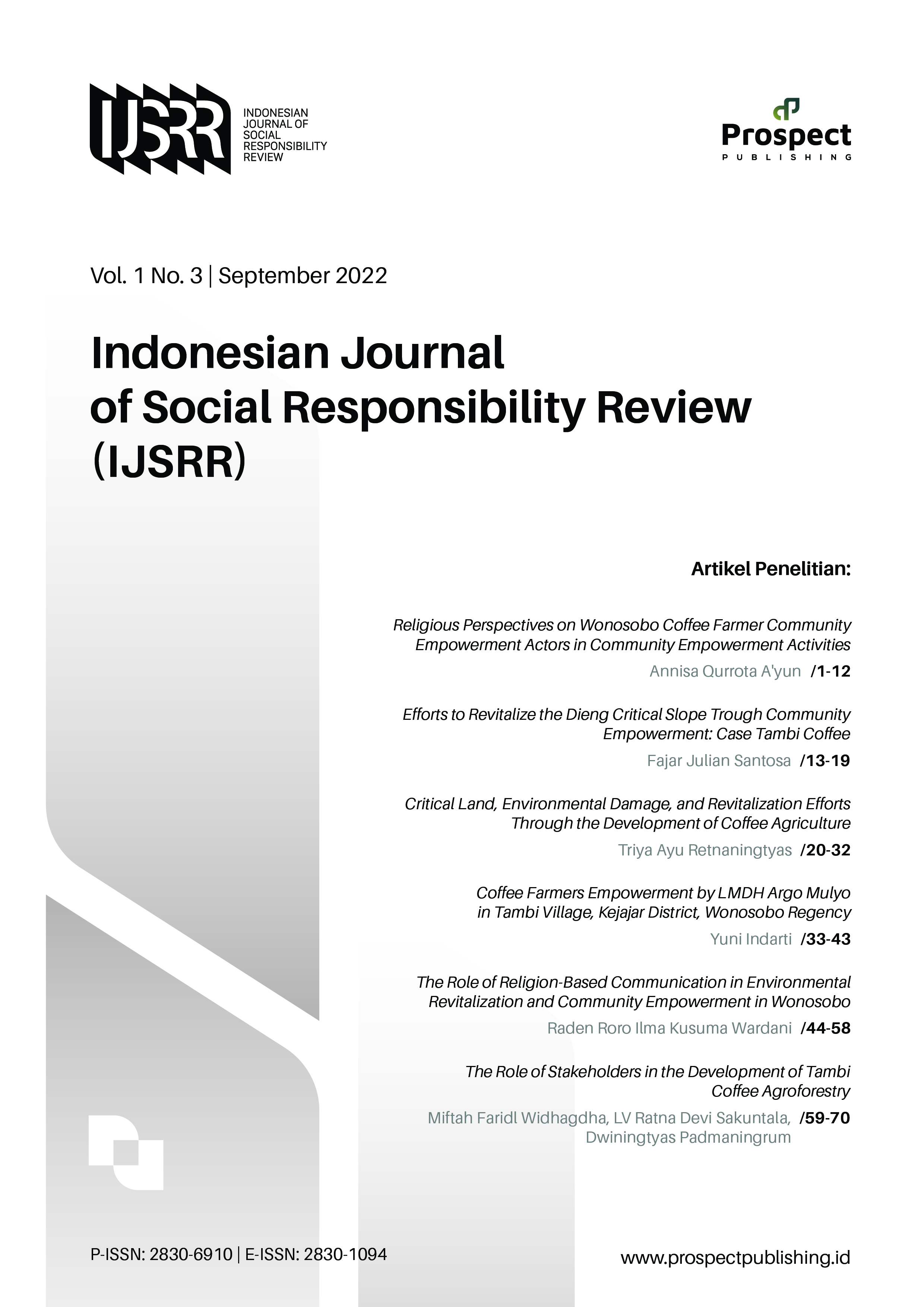 Downloads
License
Copyright (c) 2023 Yuni Indarti
This work is licensed under a Creative Commons Attribution-ShareAlike 4.0 International License.