The Role of Religion-based Communication in Environmental Revitalization and Community Empowerment in Wonosobo
Keywords:
Community Empowerment, Revitalization, Religious Communication, Wonosobo
Abstract
Forests in Wonosobo Regency play a role in maintaining ecological balance. The problem that often occurs is the decline in forest function. Various human activities are carried out to change the ecological function of forests into economic land use. One of the environmental conservation efforts is through religious character education. This was done by one of the opinion leaders in Tambi Village, Kejajar District, Wonosobo Regency. The purpose of this paper is to discuss the role of religious communication in efforts to revitalize the environment in a community empowerment process. This study uses a descriptive qualitative method with a character study approach. As a mission to revitalize the environment, an agent of change takes an approach with a religious context. This process was carried out using a pilot model method by the opinion leader Mr. RM, which started in a small community, namely the Agro Mulyo group. Starting from social change based on Islamic values. The role of religious communication in environmental revitalization in community empowerment: 1) communication as a medium of da'wah; and 2) communication as the basis for friendly interaction (strengthening ukhuwah). The principles of religious communication are: 1) oriented towards the physical and spiritual well-being of the community; and 2) religion-based empowerment is an effort to do social engineering. This paper concludes that religious communication can save itself and its citizens from environmental damage to achieve a balanced happiness between the world and the hereafter.
Downloads
Download data is not yet available.
References
BPBD (Badan Penanggulangan Bencana Daerah) Provinsi Jawa Tengah. (2014). https://ppid.bpbd.jatengprov.go.id
BPBD (Badan Penanggulangan Bencana Daerah) Provinsi Jawa Tengah. (2014). Resiko Bencana Kabupaten Wonosobo di Kecamatan Kejajar. Wonosobo. BPBD. https://ppid.wonosobokab.go.id
Brown, Shae L., Lisa Siegel, and Simone M. Blom. (2020). "Entanglements of Matter and Meaning: The Importance of the Philosophy of Karen Barad for Environmental Education." Australian Journal of Environmental Education, 36(3), 219–33. https://doi.org/10.1017/AEE.2019.29.
CIPS (Center for Indonesian Policy Studies). (2016). Kentang Menyebabkan Tanah Longsor. https://mediaindonesia.com/humaniora/33526/kentangmenyebabkan-tanah-longsor
Clark, C. R., J. E. Heimlich, N. M. Ardoin, and J. Braus. (2020). Using a Delphi Study to Clarify the Landscape and Core Outcomes in Environmental Education. Environmental Education Research, 26(3), 381–99. https://doi.org/10.1080/13504622.2020.1727859.
Kesbangpol (Badan Kesatuan Bangsa dan Politik) Provinsi Jawa Tengah. (2014). https://kesbangpol.jatengprov.go.id
Lasut MT dan Kumurur VA. (2001). Konsensus Tekanan Antropogenik pada Wilayah Pesisir: Konflik kepentingan. Jurnal Ikoton, 1, 71-77.
Rahardjo, Mudjia. (2010). Sekilas Tentang Studi Tokoh dalam Penelitian. https://uin-malang.ac.id/r/100601/sekilas-tentang-studi-tokoh-dalam-penelitian.html
Sinar Tani. (2006). Tanaman Kopi untuk Konservasi.
Sumarto, M. (2005). Dampak Alih Fungsi Hutan Menjadi Pemukiman di Bagian Kota IX
Wardani, R.I.K., et al. (2021). Farmers' adaptation in dealing with limited water (A case study on Wonogiri Regency). IOP Conf. Ser.: Earth Environ. Sci. 824 012077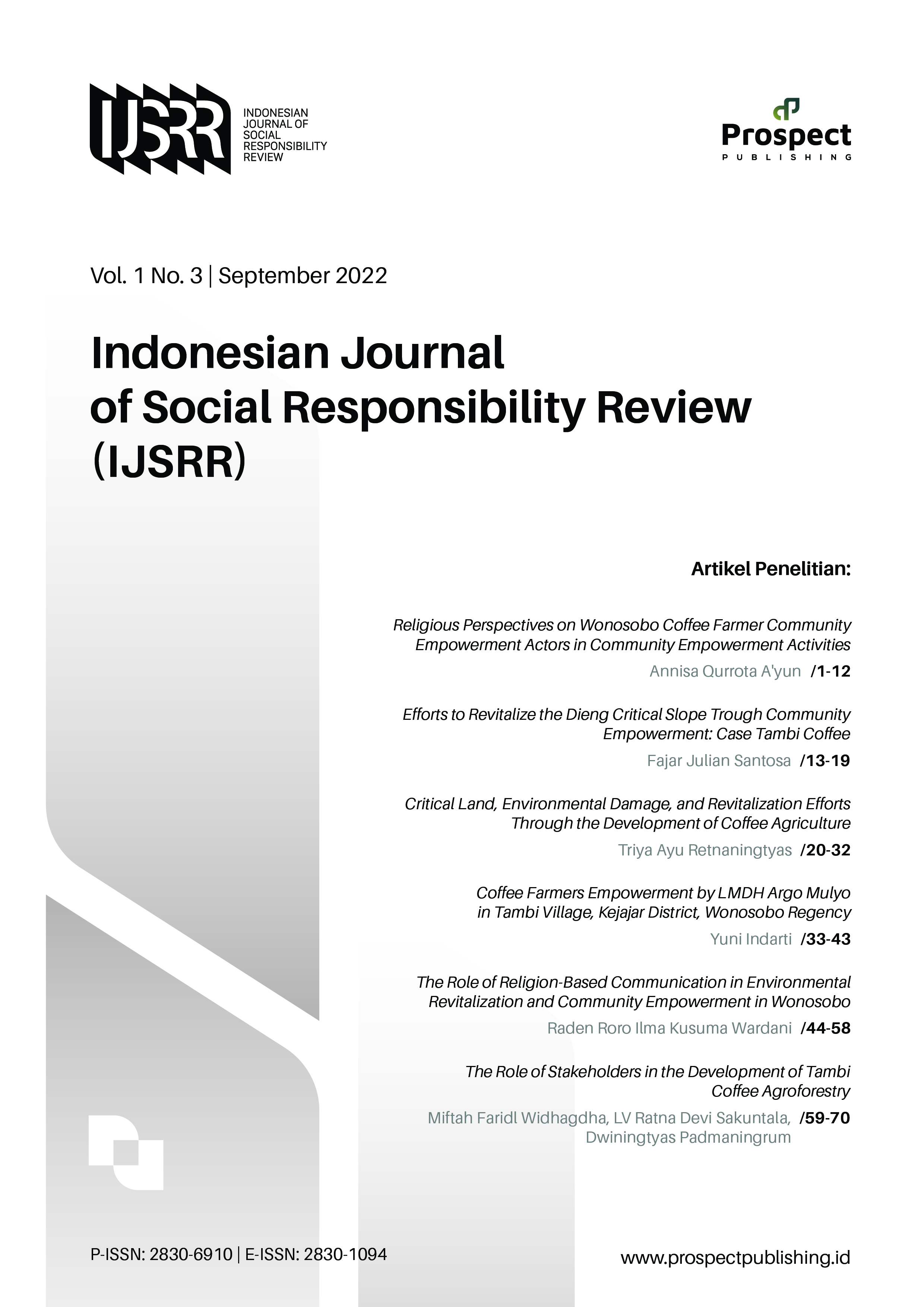 Downloads
License
Copyright (c) 2023 Raden Roro Ilma Kusuma Wardani
This work is licensed under a Creative Commons Attribution-ShareAlike 4.0 International License.