Get to Know the Marine Tourism Village of Miang Island, Your Charm is Really Charming
Keywords:
Miang Island, Tourism Village, Marine Tourism
Abstract
Miang Island is a Marine Tourism Village located in Sangkulirang District, East Kutai Regency, East Kalimantan Province. The purpose of this article is to introduce the Miang Island Marine Tourism Village both locally and abroad. To be able to get to know the Miang Island Marine Tourism Village, various qualitative and quantitative data were collected. Data collection is carried out by surveying, observation, and document study methods. The survey was conducted with interviews and questionnaires. Observation is carried out by visiting directly the object of devotion. Meanwhile, document studies are carried out to obtain more accurate data support. Miang Island Marine Tourism Village with a very beautiful natural panorama and has not been touched by many tourists. Therefore, it is necessary to introduce it to become a leading tourist attraction in East Kalimantan Province. Miang Island Marine Tourism Village is domiciled on the sea, a unique village. On Miang Island, you can enjoy sunrise and sunset. In addition, there are also snorkeling areas, gusung, tellibo, and lighthouse towers.
Downloads
Download data is not yet available.
References
Anonim. (2021). Kemenparekraf Menargetkan Devisa Parawisata Naik 1,7 Miliar Dollar AS di 2022. MenpanRB. Kementerian Pendayagunaan Aparatur Negara dn Reformasi Birokrasi. Terbit 28 Desember 2021. https://www.menpan.go.id/site/berita-terkini/berita-daerah/kemenparekraf-menargetkan-devisa-pariwisata-naik-1-7-miliar-dolar-as-di-2022#:~:text=Jakarta%2C%20InfoPublik%20%2D%20Nilai%20devisa%20sektor,meningkat%20sebesar%204%2C3%20persen.
Amalia, A. D., & Syawie, M. (2016). Pembangunan Kemandirian Desa Melalui Konsep Pemberdayaan: Suatu Kajian Dalam Perspektif Sosiologi. Sosio Informa, 1(2), 175–188. https://doi.org/10.33007/inf.v1i2.146
Brendehaug, E., Aall, C., & Dodds, R. (2017). Environmental policy integration as a strategy for sustainable tourism planning: issues in implementation. Journal of Sustainable Tourism, 25(9), 1257–1274. https://doi.org/10.1080/09669582.2016.1259319.
Chafid Fandeli. (1995). Pengertian Dan Konsep Dasar Ekowisata. Society, 1(1990), 1–6.
Cristobal-Fransi, E., Daries, N., Ferrer-Rosell, B., Marine-Roig, E., & Martin-Fuentes, E. (2020). Sustainable tourism marketing. Sustainability (Switzerland), 12(6), 10–13. https://doi.org/10.3390/su12051865
Deviona, E., Kanafi, F., & Kusuma, A. (2021). Pembuatan Infografis Sebagai Bentuk Sosialisasi Vaksinasi Covid-19. Jabn, 2(1), 80–89. https://doi.org/10.33005/jabn.v2i1.42
Dewi, M. H. U. (2013). Pengembangan Desa Wisata Berbasis Partisipasi Masyarakat Lokal Di Desa Wisata Jatiluwih Tabanan, Bali. Jurnal Kawistara, 3(2), 129–139. https://doi.org/10.22146/kawistara.3976
Dimara, E., & Perin, C. (2020). What is Interaction for Data Visualization? IEEE Transactions on Visualization and Computer Graphics, 26(1), 119–129. https://doi.org/10.1109/TVCG.2019.2934283
Endang Amalia, Y. S. (2017). Kependudukan Sebagai Pengembangan Egovernment. Prosiding Seminar Ilmu Komputer Dan Teknologi Informasi, 2(1), 1–5.
Kaharuddin, K., Pudyatmoko, S., Fandeli, C., & Martani, W. (2020). Partisipasi Masyarakat Lokal dalam Pengembangan Ekowisata. Jurnal Ilmu Kehutanan, 14(1), 42. https://doi.org/10.22146/jik.57462.
Kominfo Kutai Timur. (2020). Pulau Miang. Pemda Kutim. https://doi.org/kutaitimurkab.go.id
Miftah, M.N., dkk. 2016. Pola Literasi Visual Infografis Dalam Pembuatan Informasi Grafis (Infografis). Jurnal Kajian Informasi & Perpustakaan Vol 4/No.1, Juni 2016. Hal. 87-94
Newsom, D., & Haynes, J. (2008). Public relations writing form & style. In K. Strieby (Ed.), Thomson (8th ed.). Thomson Wadsworth. https://doi.org/10.1016/s0363-8111(96)90074-0
Nugroho, I., Pramukanto, F. H., Negara, P. D., Purnomowati, W., & Wulandari, W. (2016). Promoting the Rural Development through the Ecotourism Activities in Indonesia. American Journal of Tourism Management, 5(1), 9–18. https://doi.org/10.6084/m9.figshare.6265169
Pramono, S., Ahmad, I., & Borman, R. I. (2020). Analisis Potensi Dan Strategi Penembaan Ekowisata Daerah Penyanga Taman Nasional Way Kambas. Jurnal Teknologi Dan Sistem Informasi (JTSI), 1(1), 57–67. http://jim.teknokrat.ac.id/index.php/sisteminformasi
Rijal, S., Nasri, N., Ardiansyah, T., & A, C. (2020). Potensi Pengembangan Ekowisata Rumbia Kabupaten Jeneponto. Jurnal Hutan Dan Masyarakat, 12(1), 1. https://doi.org/10.24259/jhm.v12i1.6031
Sholikhah, A. (2016). Statistik Deskriptif Dalam Penelitian Kualitatif. KOMUNIKA: Jurnal Dakwah Dan Komunikasi, 10(2), 342–362. https://doi.org/10.24090/komunika.v10i2.953
Saptodewo, Febrianto. 2014. Desain Infografis Sebagai Penyajian Data Menarik. Jurnal Desain.
Sodexo. (2021). Manfaat Media Promosi untuk Perkembangan Bisnis Anda. Sodexo Online. https://www.sodexo.co.id/manfaat-media-promosi/#:~:text=Meningkatkan Value Produk&text=Nilai dari sebuah produk atau,melihat usaha yang Anda miliki.
Supriadi, B. (2016). Pengembangan Ekowisata Pantai Sebagai Diverifikasi Mata Pencaharian. Pesona, Jurnal Pariwisata, 18(01), 1–20. https://doi.org/https://doi.org/10.26905/jpp.v1i1.369
Suryajaya, I. P. A. M., & Adikampana, I. M. (2019). Dampak Ekonomi Ekowisata Air Terjun Suranadi Terhadap Masyarakat Lokal Di Desa Jatiluwih. Jurnal Destinasi Pariwisata, 7(2), 315. https://doi.org/10.24843/jdepar.2019.v07.i02.p16
Veronika, R., Ginting, B., Arindani, D., Mega, C., Lubis, W., & Shella, A. P. (2022). Literasi Digital Sebagai Wujud Pemberdayaan Masyarakat. Jurnal Pasopati …, 3(2), 118–122. https://ejournal2.undip.ac.id/index.php/pasopati/article/view/10869
Waluya, B., & Jamil, R. S. (2016). Pengaruh Elemen Ekowisata Terhadap Keputusan Berkunjung Wisatawan Ke Taman Hutan Raya Ir. H. Djuanda. THE Journal : Tourism and Hospitality Essentials Journal, 6(1), 967. https://doi.org/https://doi.org/10.17509/gea.v16i1.3471
Zhu, J., Wright, G., Wang, J., & Wang, X. (2018). A critical review of the integration of geographic information system and building information modelling at the data level. ISPRS International Journal of Geo-Information, 7(2), 1–16. https://doi.org/10.3390/ijgi7020066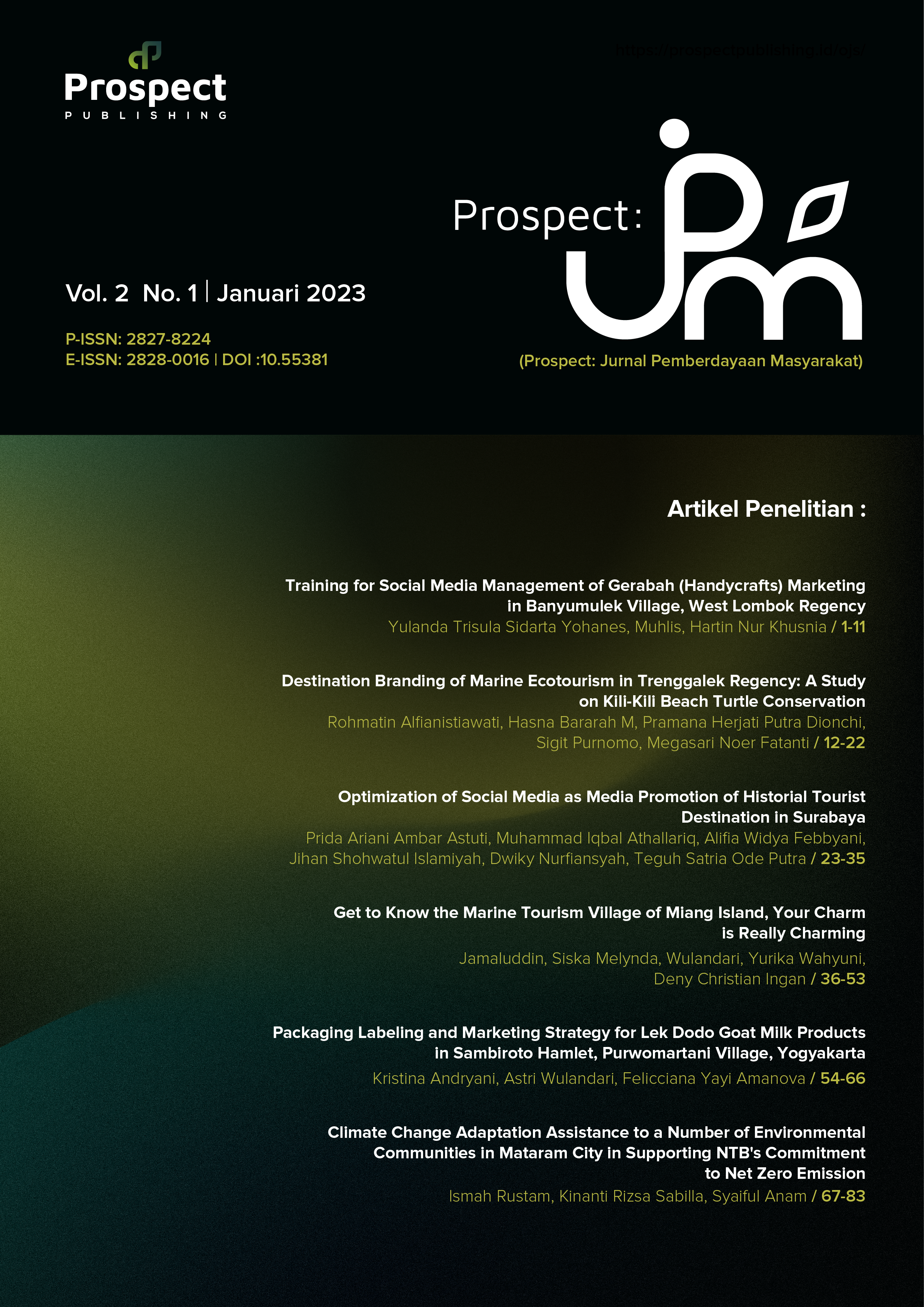 Downloads
License
Copyright (c) 2023 Prospect: Jurnal Pemberdayaan Masyarakat
This work is licensed under a Creative Commons Attribution-ShareAlike 4.0 International License.